£100k reward after millions-of-pounds of metal stolen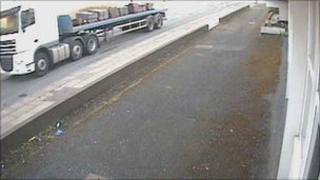 A £100,000 reward is being offered after millions-of-pounds worth of copper and nickel were stolen from a warehouse at a Liverpool dock.
Burglars targeted Huskisson Dock in the early hours of 31 May. They loaded hundreds of tonnes of metal sheets onto two lorries and trailers.
Police believe it was divided into smaller quantities elsewhere and sent to other parts of the UK or exported.
The reward is being offered by the company which owns the warehouse.
A police spokesman said they were unable to disclose the name of the company.
'Incredibly valuable'
Merseyside Police said they believe the burglars returned several times over the course of a few hours to steal the metal sheets.
They have released CCTV pictures of the raid.
Det Insp Paul Heslop, of Merseyside police, said: "This was a well-organised burglary involving a gang of offenders who must have had knowledge of what was in this particular warehouse and how to get it out undetected.
"They would also have needed to have the skill and expertise to drive an HGV, and others must have known how to distribute it once away from the scene.
"High-grade copper and nickel is an incredibly valuable commodity and its worth is reflected by the substantial reward the company is offering."
Anyone with any information is urged to contact Merseyside Police.