Man punched in homophobic attack in Bootle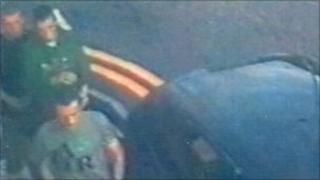 A 27-year-old was punched in the face in what police say was a homophobic attack on Merseyside.
The man was with three friends outside Thoroughgoods General Store in Marsh Lane, Bootle, when a group of seven men started shouting abuse at them.
One of the group, who were drinking alcohol, then punched him in the face, fracturing his jaw.
Police have released CCTV images of three of the men they want to speak to about the incident on 21 June.
The main offender is white, 5ft 8in and about 16 or 17 years old. He has short dark hair with a metal brace on his teeth.
Det Con Peter Tynan, from the Sigma Hate Crime Unit, said: "The force is committed to making Merseyside a safe place for all regardless of ethnic origin, gender, age, disability, sexual orientation, religion or belief and to the belief that everyone has the right to be treated with fairness, dignity and respect.
"Those who carry out hate crimes targeting people because of their difference should be left in no doubt that their behaviour will not be tolerated and that robust action will be taken to ensure they are arrested and prosecuted for their actions."