Ellesmere Port mayor defends Asda mutant comments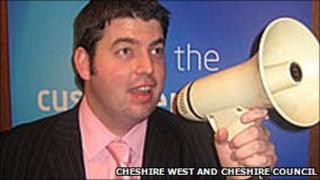 A town mayor, who was filmed calling shoppers at his local Asda "mutants", has defended his comments.
Gareth Anderson, the mayor of Ellesmere Port, said the footage - filmed three years ago on holiday - "had been taken out of context".
He said his use of the word "mutants" referred to a group of people who swore and spat at him for being a Tory.
Labour MP Andrew Miller called his remarks "unforgivable" and called for him to apologise.
The 37-second clip included him saying: "My usual visits to Asda would probably be later than this... mostly to avoid the mutants who go in during the day."
Mr Anderson, who became one of the country's youngest mayors at the age of 30, described it as a "short and highly distorted extract".
He said: "It was from a video I took on holiday in the USA three years ago. In the days before leaving for the holiday I went to Asda in Ellesmere Port, which is where I usually do my shopping.
"On both of those occasions I was accosted by the same group of rather unpleasant people, once inside the store and the second time just outside it.
"They used foul language and they physically jostled me and made further comments.
"On the second occasion one of them spat at me. Three days later I was staying at a hotel in Dubuque, Iowa for the night.
"Asking the receptionist in the hotel where I could find a supermarket, she said the nearest was a Walmart store but warned me to be careful because she and some friends had been assaulted by some people there.
'Silly comments'
"She described them as 'mutants' and it reminded me of the people who had accosted me a few days earlier.
"It is these people I was referring to as mutants."
The video was one of 30 he posted on the video sharing website YouTube while he was on holiday.
Mr Anderson added: "Taking a few seconds of an old video out of context is a typically infantile way for Labour activists to have a go at their opponents."
Local Labour group leader Derek Bateman said: "I wonder what those people who voted for Councillor Anderson think of these silly comments.
"As mayor he really should be more careful."