Jon Venables' identity must be secret judge rules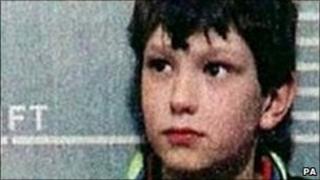 The new identity of Jon Venables must be kept secret because there is "compelling evidence" of a threat to his safety, a judge has said.
Venables, one of the killers of Merseyside toddler James Bulger, admitted child pornography offences on 23 July and was jailed for two years.
Mr Justice Bean ruled that he had as much right to protection from retribution as anyone else.
The Old Bailey heard he was still getting death threats over the murder.
Venables and Robert Thompson were both aged 10 when they abducted two-year-old James from a shopping centre in Bootle and murdered him on a railway line nearby.
They were given life terms the following year.
The pair were released on licence in 2001 and given new identities.
Legal restrictions were also put in place to prevent people discovering who they were.
Venables, now 27, was recalled to custody in February after images of child sexual abuse were found on his computer.
Mr Justice Bean, who presided over the most recent case, decided on 23 July to continue the identity restrictions, despite some media organisations arguing against the ban continuing.
However, he allowed the fact Venables had been living in Cheshire before being recalled to custody to be reported in the media.
Giving his reasons on Friday, the judge said: "There is understandable and legitimate public interest in the fact that one of James Bulger's killers has now been convicted of child pornography offences.
"But there is no legitimate public interest in knowing his appearance, his location in custody or the exact location at which he was arrested and to which he might return on the event of being released.
"If there is, it is of marginal significance when set against the compelling evidence of a clear and present danger to his physical safety and indeed his life if these facts are made public."
He added: "It is a fundamental duty of the state to ensure that suspects, defendants and prisoners are protected from violence and not subjected to retribution or punishment except in accordance with the sentence of a court.
"That principle applies just as much to unpopular defendants as to anyone else."
Mr Justice Bean said "one would have thought" that threats against Venables would have diminished but that there was "clear evidence" that was not the case.
Five years ago, a man who was mistaken for Venables was forced to move his family on several occasions after threats against him.
There were also websites calling for vigilante action against Venables and a report in a newspaper that so-called Merseyside crime lords had offered a reward of £100,000 to anyone who killed him in prison, the judge said.
'Name immaterial'
Mr Justice Bean said that if Venables were to have been tried and convicted by a jury for the new offences under his new name it would "inevitably" have become a matter of public record and he "would have brought that on himself".
But, as he pleaded guilty under the name Venables, there was "no reason" for his name to be made public.
"The effect of doing so would simply be to assist those seeking to track him down", the judge said.
"The fact of public interest is that the man formerly known as Jon Venables has been convicted. His new name is entirely immaterial."