Couple marry in bombed-out church in Liverpool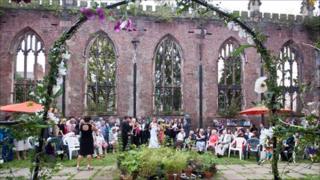 A famous bombed-out church in Liverpool has hosted a wedding - believed to be the first since World War II.
Amanda LaRagione, 24, and Martin Lowe, described by their friends as "unique", said their vows in the city's roofless St Luke's Church.
The building was almost destroyed by an incendiary bomb in May 1941 and has remained as a burnt-out shell ever since.
The couple said it was "something they had always dreamed of".
The wedding party missed the torrential downpour that hit the city earlier on in the day and the sun broke through as the happy pair became man and wife under an arch adorned with flowers inside the church's burnt walls.
Ms LaRagione, who took part in Bollywood dancing and kayaking for her hen party, said she used to run around the church as a child and believed it was like being "in Alice In Wonderland".
'Finally happening'
"It has always been one of my favourite buildings in Liverpool I used to go there when my granddad took me into town.
"I have always joked with my mates that one day I would get married there - I'm so excited that it is finally happening."
The couple had to seek the permission of the arts and drama group, Urban Strawberry Lunch, which has been based at the church for the past four years.
Ambrose Reynolds, the organisation's artistic director, said it was a very special day.
He said: "We do believe it is the first time anyone has got married there since it was bombed out, so it's certainly been unusual.
"The church is a beautiful setting - in the past four years we have had 83,000 visitors to the site."
Before the service, the couple made their legal vows in the city's Cotton Exchange.