Nurse convicted of killing wife in Southport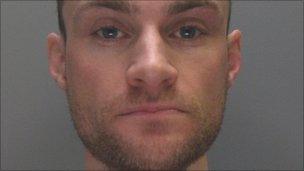 A nurse who strangled his wife and tried to make it look as though she died in an accident has been found guilty of her murder.
Brent Mott, 32, claimed he was acting in self-defence when he killed Kate, 35, during a row over their divorce at their home in Southport, Merseyside.
Liverpool Crown Court heard he strangled her with her pyjama top before putting her in the family car.
He then drove her to a field in Lancashire and staged a car crash.
Mott told jurors his wife, who was also a nurse, was angry with him for planning to move to Australia and wanting more money in the divorce settlement.
He admitted killing his wife, telling the court that she attacked him with a peeling knife after he came back from a night out and he had lost all self-control.
He said after killing his wife he was going to take her to Southport Hospital - where they worked - for help and put her in their Ford Focus.
But instead he drove to a farmer's field in Scarisbrick, Lancashire, and abandoned the car with his wife inside, superficially damaging the car from the outside to make it look like she had been in a crash.
The following day he desperately tried to cover his tracks by sending texts to her, asking friends if they had seen her and eventually reporting her absence, and possible suicidal state, to the police.
Det Ch Insp Andy Williams, from Merseyside Police, said: "Brent Mott was interviewed over several days and persisted in his lying account that he was not responsible for his wife's death.
"It was only on 29 June 2010, after Mott had been served with overwhelming evidence, that he admitted killing Kate but denied her murder.
"He had no thought to Kate's family and friends who had to relive the tragic events by having to attend court and provide evidence during the trial."
He added: "Kate was a devoted mother to her two young children and was about to start a new chapter in her life following the imminent divorce agreement.
"Brent Mott's obsessive jealousy would not allow this and he killed Kate in what can only be described as a despicable, vicious and brutal attack."
The Recorder of Liverpool, Judge Henry Globe QC, said the father-of-two would be jailed for life.
The minimum term he will serve will be decided when he is sentenced on Wednesday.
Outside court, Mrs Mott's family issued a statement paying tribute to her.
They said: "Kate was a lovely caring person who always thought of others before herself.
"Her tragic death has devastated us as a family and she is greatly missed by all those who knew her.
"We would like to thank Merseyside Police for the hard work and continued support throughout this very emotional and traumatic time.
"Today's result comes as a huge relief to us.
"We can now begin to pick up the pieces and move forward to provide a safe and secure future for the children and Kate can now rest in peace."
Related Internet Links
The BBC is not responsible for the content of external sites.