Fake crash nurse who murdered wife is jailed for life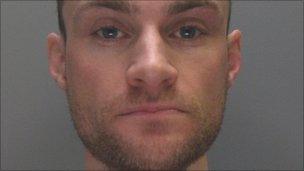 A nurse who raped and murdered his wife, then tried to make it look as though she died in a car crash, has been jailed for life.
Brent Mott was found guilty of murdering his wife Kate, 35, after a trial at Liverpool Crown Court.
Mott, 32, raped and strangled her at their home in Southport, in January.
Sentencing him to a minimum term of 25 years, Judge Henry Globe QC said: "You raped her at or around the time of killing her."
He added: "Only you know exactly when it was and in what precise circumstances you raped her in connection with when you strangled her."
After killing her, Mott dressed his wife - also a nurse - and drove her body to a field in Scarisbrick, Lancashire, before causing superficial damage to their Ford Focus.
Mott, of Everard Road, had admitted killing his wife on 21 January - while the couple's two young children slept upstairs.
But he claimed he had acted in self-defence, and that his wife had attacked him with a peeling knife during a row over their impending divorce.
He said she had fallen during a struggle and banged her head on the marble fireplace hearth.
He then strangled her with her pyjama top after he "lost all self-control", he claimed.
However, the court heard Mrs Mott's head injures were caused by a weapon and the ligature marks were caused by something else.
He tried to cover his tracks the following day, by sending texts to her, asking friends if they had seen her and eventually reporting her absence, and possible suicidal state, to the police.
The court heard Mrs Mott had filed divorce proceedings alleging he regularly sexually abused her.
She had obtained a court order banning him from a makeshift bedroom in the living room of their home but he ignored it.
"Put simply, you couldn't keep your hands off Kate who was constantly being mauled by you," Judge Globe said.
During the trial, he claimed that the day before he killed her, Mrs Mott suggested they enjoyed one "last fling" and had consensual, unprotected sex.
Judge Globe said that was "inconceivable".
"You came home determined to have sexual intercourse with Kate come what may," he said.
"This was an intelligent mature woman who had already arranged for the locks to be changed upon your imminent departure, so desperate was she to see you leave.
"She wouldn't have willingly allowed you to have had sexual intercourse with her and risk becoming pregnant in the course of that intercourse."
Related Internet Links
The BBC is not responsible for the content of external sites.