Woman in Nectar card row banned from every Sainsbury's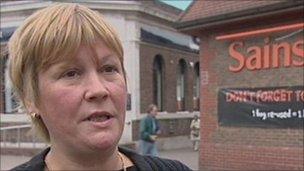 A woman has been banned from every Sainsbury's in the UK for redeeming the points on someone else's loyalty card.
Christine Turton, of Crosby, Merseyside, used an elderly woman's Nectar card to buy groceries.
She said she believes she was given the wrong card by a cashier on a previous shopping trip.
Merseyside Police arrested her on suspicion of fraud but she has been released without charge. Sainsbury's said the ban still applied.
Mrs Turton, who has been shopping at the store for 26 years, said: "I don't see what I have done wrong other than being stupid and not checking a card which not many people do.
"This is humiliating and degrading. I am just absolutely gobsmacked."
She said the first she had heard of the situation was when a police officer knocked on her door in June.
Merseyside Police said they had received a complaint from a 73-year-old man about his wife's Nectar card going missing with several hundreds of pounds worth of points on it.
It had been used several times, police said.
The man also told the store of his concerns and the manager traced the person believed to be using the card.
Mrs Turton was arrested on suspicion of fraud by false representation on 25 June.
She said she had been put in a cell, searched, had to comply with a drugs test and had photos taken.
"It was humiliation at its worst," she said.
She was released on bail the same day and told on 8 July no further action would be taken, the spokesman said.
Acting Ch Insp Neil Turner said Mrs Turton was only arrested after extensive checks with the supermarket.
"At the end of the day theft is theft, whether it's hundreds of pounds in cash or hundreds of pounds-worth of points and we were duty-bound to investigate this properly, as we did," he added.
A spokeswoman for Sainsbury's said: "We want to serve our customers, so we never take this kind of action lightly or without investigation.
"Mrs Turton can appeal the ban but at this stage we stand by our decision."
Mrs Turton said she would fight to clear her name.
Related Internet Links
The BBC is not responsible for the content of external sites.