Church service in Liverpool marks 65th VJ day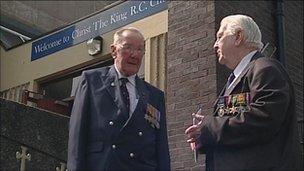 The 65th anniversary of Victory over Japan Day (VJ Day) has been commemorated at a service in Liverpool.
Veterans and residents attended the service at Christ the King Church.
Hundreds of thousands of British troops fought in the Far East during World War II. Almost 30,000 were killed and 12,500 died in prison camps.
The Japanese surrendered on 14 August 1945 after the dropping of atomic bombs on Hiroshima and Nagasaki. The next day was celebrated as VJ Day.
Veteran Arthur Lane, who was in the 1st Battalion Manchester regiment, attended the service in Liverpool.
He had been taken prisoner by the Japanese soon after he arrived in Singapore.
He said he had fought for years to get VJ day recognised and that Sunday's service was "the end of a long battle".
He said he saw fellow soldiers go through horrific ordeals at the hands of the Japanese and Korean troops, including one who was a close friend.
"He wanted a smoke when he should have been working and the Japanese guards and the Koreans stuffed his mouth with cigarettes and (put them) up his nose and his ears and pushed him into the fire to light the cigarettes.
"He didn't last five minutes."
Among others to attend the service were Nick Griffin MEP, leader of the British National Party.
The service was followed by a parade through nearby streets.
Related Internet Links
The BBC is not responsible for the content of external sites.