Jobs threat at Merseyside car parts company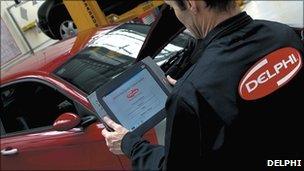 A total of 181 jobs are under threat at a British car parts manufacturing plant, the Unite union has claimed.
US multi-national Delphi has begun talks with the union over the future of its electronics factory in Kirkby, Merseyside.
The Michigan-based firm, one of the world's largest car parts manufacturers, said it was keeping an open mind about the plant's future.
But Unite said staff "looked certain" to lose their jobs by the end of 2011.
Roger Maddison, Unite's national officer for motor components, said: "This is another disaster for British manufacturing.
"Should the company's plan go ahead, Unite will do everything it can to ensure our members receive generous redundancies from this global player.
"Our members have worked exceptionally hard to improve efficiencies and quality over the past few years to secure a future in Kirkby, but once again a UK plant has failed to secure new work against competition from lower cost economies."
Delphi, which employs about 3,500 people across the UK, said the factory had not been able to secure enough business.
In a statement, a spokesperson said: "In an effort to address an extremely competitive environment, Delphi has entered discussions with unions and employees at its Liverpool site to determine the future of the company's Liverpool manufacturing plant.
"The competition in the automotive industry is exceptionally intense and the site has not been able to secure new work on a competitive basis.
"Accordingly, as current customer contracts expire, the site has not been able to secure replacement business that would allow the plant to remain operational in the long term."
Related Internet Links
The BBC is not responsible for the content of external sites.