Liverpool's economy gets £30m culture boost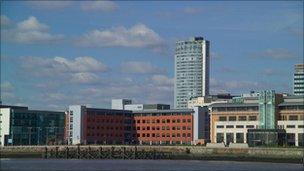 Cultural events staged in Liverpool during the past year have brought more than £30m into the city, according to research commissioned by the council.
The report found that 915,000 visitors spent £33m during 2009 attending events that cost £2.5m to stage.
The figures compared "favourably" to 2007, when 218,000 visitors spent £12.5m, the council said.
In 2008, Liverpool's year as European Capital of Culture, 1.5m visitors spent £40m on events costing nearly £11m.
Wendy Simon, cabinet member for culture and tourism at Liverpool City Council, said: "These are remarkable figures and dispel any fears that there would be a hangover following the Capital of Culture year.
"Last year for every pound we invested in cultural events, the city's economy got more than £12 back.
"This demonstrates graphically the huge economic impact of cultural events."
She said it was "not surprising" the prime minister had "singled Liverpool out as an example of how economic success can be achieved through cultural-led tourism".
"It also shows that there is a lasting legacy from the Capital of Culture year," Ms Simon said.
"Clearly we were not going to attract the same level of audience or visitors spend we did in 2008 but last year stood up incredibly well and we will be working hard to maintain that high standard."
Related Internet Links
The BBC is not responsible for the content of external sites.