Unseen Beatles images go on display in Liverpool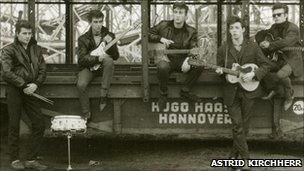 A selection of previously unseen photographs of The Beatles are to go on display in Liverpool.
Images taken by German photographer Astrid Kirchherr will be displayed at the Victoria Gallery and Museum.
Kirchherr, the former girlfriend of original bass player Stuart Sutcliffe, took pictures of the band's early years after meeting them in Hamburg in 1960.
The exhibition, Astrid Kirchherr: A Retrospective, runs from 25 August until 30 January 2011.
The 70-photograph exhibition includes images of the Beatles on holiday in Tenerife and of the making of their film A Hard Day's Night in 1964 in Liverpool.
Ms Kirchherr said: "I am delighted to come back to Liverpool to show my photographs at the Victoria Gallery and Museum, having enjoyed seeing Stuart's work in the same venue in 2009."
Matthew Clough, museum director, said: "The primary focus of this exhibition is to demonstrate Astrid's work as a significant 20th Century photographer.
"Astrid is known for her photographs of the Beatles in Hamburg, but her images of Liverpool in the early 60s provide a unique snapshot of a particular moment in its history."
Related Internet Links
The BBC is not responsible for the content of external sites.