Poached Wirral cockles may pose human health risk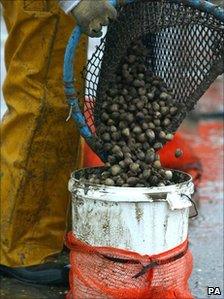 An estimated 10 tonnes of cockles unfit for human consumption could be heading for the food chain after being poached from a seabed on Merseyside.
About 50 people, who arrived on 10 off-road vehicles and trailers, were found raking up cockles from a shoreline in Leasowe, Wirral, on Sunday night.
Officials fear the shellfish were sent to the east of England for processing.
Cockles collected from such beds can pose a "serious risk" to human health, said the Food Standards Agency (FSA).
Officers attended the scene and spoke to a few fishermen, who all claimed to have permits to rake for cockles.
Subsequent inquiries uncovered doubts about the legality of the licences and officers started an investigation, alerting the Environment Agency and FSA.
Merseyside Police Wildlife Officer Rachael Krueger said: "There are not only real safety concerns with people picking cockles, due to the tides and the darkness, but picking cockles commercially or more than 5kg (11lb) worth without holding a valid licence is a criminal offence.
"It is also a criminal offence to pick cockles at night. There are a raft of laws surrounding cockle picking which people should be aware of."
The FSA said the latest incident followed a number of smaller scale occurrences in recent weeks.
"We suspect the cockles were transhipped from a base near Hoylake to eastern England for processing," said a spokesperson.
"Taking and selling cockles from an unclassified area for human consumption is a criminal offence.
"Cockles collect from unclassified shellfish beds can pose a serious risk to human health."
The area where the cockles were harvested is part of the inner Liverpool Bay which, although has seen its water quality improve in recent years, has had pollution issues in the past.
The FSA has urged anyone offered cockles harvested from the area to contact them.
Related Internet Links
The BBC is not responsible for the content of external sites.