Rare cancer couple marry at Aintree Racecourse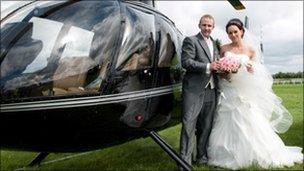 A Merseyside couple have got married after overcoming two types of extremely rare cancer.
Anthony, 27, and Tina Lunt, 23, tied the knot at Aintree Racecourse and are about to embark on their honeymoon cruise round Italy.
Mr Lunt battled cancer of the nasal passage when he was 10 and his wife recovered from synovial sarcoma - a cancer in her calf muscle last year.
"The day was very special," he said.
The cancer that infected Mr Lunt is so rare he was told by the doctors at the time it was the first time they had treated someone so young with such a disease.
The tumour was found in the nasopharynx, which joins up the throat and the nose. He had a year of chemotherapy and radiotherapy where he lost his hair and had to suffer severe burning to the skin.
"The radiotherapy was so strong it burnt my neck and face. My skin got so dry it would crack and bleed when I turned my head," he said.
He recovered, but now has frequent check-ups to ensure the cancer has not spread.
Mrs Lunt, who met her husband through mutual friends seven years ago, was diagnosed with cancer after she noticed a growth in her calf in July 2008. It grew to become the size of a man's fist.
Within a week of doctors discovering the tumour was malignant, she had the operation to remove it.
"There was a high risk this cancer could have spread because it was in the soft muscle tissue.
"I was absolutely stunned when we discovered Tina had cancer too, but after battling it myself I knew she would pull through."
She had some muscle removed and the wound on the back of her leg - which stretches from the bottom of her calf to her thigh - is still healing.
"It's still very painful for her," Mr Lunt added, "But she managed to walk down the aisle and that's the main thing."
Related Internet Links
The BBC is not responsible for the content of external sites.