Lennon's toilet in Liverpool Beatles auction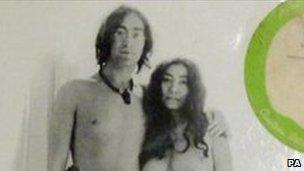 John Lennon's toilet and one of his rarest albums are to be auctioned at Liverpool Institute for the Performing Arts.
The lavatory from Tittenhurst Park, his Berkshire home between 1969 and 1972, and a mono-sound copy of Two Virgins go on sale on Saturday.
The toilet which he gave to his builder for use as a plant pot is expected to fetch up to £1000.
The album, which showed a naked Lennon and Yoko Ono, could fetch £2,500.
The toilet was stored at builder John Hancock's shed for 40 years until he died recently.
Beatles expert and auction organiser Stephen Bailey said: "The toilet might be worth something, and it might not, but it is certainly one of the more unusual items we've sold."
Mr Bailey, manager of the Beatles Shop on Mathew Street, Liverpool, added: "I have only ever come across two other mono copies of Two Virgins before so that will be the one to watch.
"Even at the end of the 60s, during such a bohemian period, the picture of a naked couple on the album cover still caused a great deal of scandal.
"It must be one of the rarest Beatles solo albums to come up for auction."
Experts believe that only 200 of the mono albums, which were sold in brown paper bags for modesty reasons, were produced.
The sale also features a small harmonica that belonged to Lennon's son, Julian.
It was given to Mr Hancock by John Lennon who asked him to take it home as "Julian was driving him mad with it".
Lennon had told Mr Hancock that he would tell Julian it was lost.
Sir Paul McCartney fans can bid on a black and white photograph taken of the 21-year-old musician outside his family home at 20 Forthlin Road, Liverpool.
Related Internet Links
The BBC is not responsible for the content of external sites.