Loss of Liverpool mark ends 300 years of postal history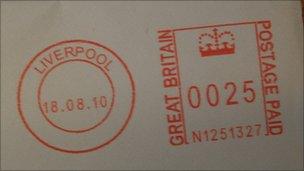 Britain's second oldest postmark, that of Liverpool, is soon to disappear from most mail posted from the city.
The Royal Mail will close its last Liverpool sorting office in Copperas Street in October, when all letters will be sent through Warrington.
A Warrington postmark will appear on letters posted in Liverpool, ending 300 years of mail history.
Businesses that frank their own letters will be able to continue using the old postmark.
The Communication Workers Union had tried to convince the Royal Mail to retain the mark, saying that it was "an important part of the city's history as a major port".
Liverpool branch secretary Mark Walsh said: "We believe that Liverpool has been good to the Royal Mail over the centuries, putting a lot of business its way through the port.
"It's disappointing that it can't see how important our postmark is. I don't understand why it can't just set up the Liverpool stamp on its computers at Warrington."
A Royal Mail spokeswoman said: "In August 2008 we announced that we would be transferring processing of mail from Liverpool Mail Centre to Warrington as part of a reorganisation of our operational infrastructure in the NW of England.
"This followed several months of consultation with our staff and the union.
"All mail processed at the new Warrington Mail Centre will bear a Warrington postmark as the postmark is an operational tool which identifies the mail centre where an item was processed, not the area in which it was posted."
Related Internet Links
The BBC is not responsible for the content of external sites.