IVF treatment suspended in Warrington to cut costs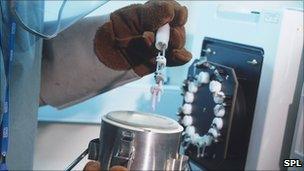 IVF treatment has been suspended by a Cheshire Primary Care Trust (PCT) in an effort to cut costs.
NHS Warrington said the decision would be very distressing for some, but that the treatment was expensive and involved a low number of people.
It said people with fertility problems would still be treated and advised, but that IVF would not be offered.
GPs referring cases where there was an "exceptional clinical need" would still be considered, it added.
Dr Andrew Davies, chair of NHS Warrington's clinical leadership team, said: "We do understand that this decision will be very distressing for those who were hoping to begin IVF this year; this decision was not taken lightly.
"However, the PCT must focus rigorously on the health of the people of Warrington and on the need to maintain financial stability which providing high quality local healthcare."
He added: "While the panel recognised that infertility is a condition which causes great distress to the couples concerned, it does not affect general physical health or life expectancy and as such did not fulfil our health priorities."
The policy will be reviewed in July 2011.
The National Infertility Awareness Campaign (NIAC) has reacted angrily to the decision.
It said: "We are very angry indeed at the decision taken by Warrington PCT to suspend funding for IVF treatment.
"The PCT has suggested that infertility does not affect general physical health, but we deal with patients every day who contact us and whose health has been adversely affected by this illness."
It said National Institute for Health and Clinical Excellence guidelines stated up to three full cycles of IVF should be made available on the NHS to those meeting the clinical criteria.
North Staffordshire Primary Care Trust (PCT) also suspended IVF services in 2006 for financial reasons.
Related Internet Links
The BBC is not responsible for the content of external sites.