Eco-friendly family hostel plan approved in Liverpool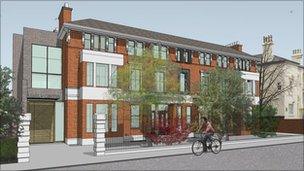 Plans to redevelop a former Liverpool convent into an eco-friendly homeless hostel have been approved.
Liverpool Mutual Homes (LMH) plans to turn Belvidere Road Family Centre into a modern base for families seeking temporary emergency accommodation.
Work on the hostel, which will provide 16 flats housing up to 80 people, will start in November after Liverpool City Council approved the plans.
The centre will be fitted with solar panels to provide electricity.
It will also have flat-plate solar collectors and heat pumps to convert hot air into energy and provide hot water.
A large glazed panel will also be part of the extension, allowing natural light into the building with cool air converted into space heating for distribution around the communal areas.
The existing centre comprises of two former semi-detached houses built in the 1870s, which were originally converted into a convent before being transformed for its current use about 20 years ago.
Plans for the new centre were designed by John McCall Architects following consultation by LMH with existing users and the local community.
Councillor Joe Anderson, Leader of Liverpool City Council, said: "I very much welcome this development which will provide a modern centre for families in the greatest need.
"I also applaud the forward-thinking nature of this scheme with its emphasis on being eco-friendly."
Chief Executive at LMH, Steve Coffey, said: "Despite the tough economic conditions it is imperative that housing associations continue to address the green agenda as much as possible and the industry becomes a leader in delivering sustainability and passes savings on to tenants to help them financially."
Related Internet Links
The BBC is not responsible for the content of external sites.