'Disgusting' attack on Widnes woman, 80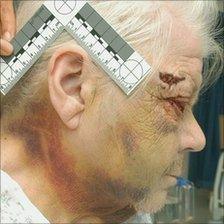 Intruders who left an elderly woman with serious head injuries after attacking her in her home have been branded "disgusting".
Gwen Deakin, 80, was found by carers three days after being left beaten in her home in Widnes, Cheshire.
She remains in a stable condition in Whiston Hospital, but has been unable to help police establish a clear motive for her attackers.
"It beggars belief," neighbour Ged Swales told the BBC.
Cheshire Police believe at least two men entered Miss Deakin's home over the weekend of 13 August and launched the attack.
Det Sgt Clare Ellis said the motive for the assault remained unclear, but one possibility is robbery.
Miss Deakin was left in a state of confusion following her ordeal, she added.
"She's not been able to tell us an awful lot which is why were are appealing to the public to assist us with this," said the detective.
"Gwen was a very independent lady, not many people know her so, it's very hard to tell what effect it's had on her.
"This is an isolated incident but I'm sure someone out there knows exactly what happened and we need their help."
Mr Swales described Miss Deakin as a "nice neighbour" who was very independent and kept herself to herself.
"I think it's disgusting. It beggars belief," he said.
"[It is] A sad reflection of the times when an 80-year-old lady can be attacked and knocked about the head for a few pounds - because she wasn't a rich woman by any means."
Related Internet Links
The BBC is not responsible for the content of external sites.