Water supply restored to Warrington homes after repairs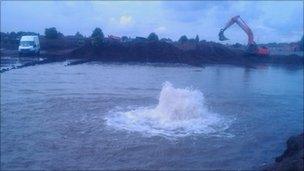 Up to 20,000 homes in Warrington that had suffered water supply problems after a contractor damaged a mains pipe have had the service restored.
United Utilities received 4,000 calls about loss of water and low pressure after the accident on Alder Lane, Orford, on Wednesday morning.
Supplies were re-routed and seven water tankers had been deployed to the area.
United Utilities said their repair work was completed at about 1900 BST, allowing supplies to be restored.
"The damaged water main in Warrington has now been repaired and water supplies to all customers will start to be restored immediately," said a spokeswoman in a statement.
"However, because the main is large it will take a couple of hours for water to reach full pressure so some customers at the extremities of the pipe may experience problems until about 9pm (2100BST).
"Unfortunately there is no way of speeding this process up. Our engineers will remain on site until the situation is fully returned to normal."
United Utilities said some customers may suffer from water discolouration because of sediment disturbed during the repairs, but that it should clear by Thursday morning.
"United Utilities would like to apologise for the temporary problems, which were due to damage to our pipe caused by a third party," the spokeswoman added.
Related Internet Links
The BBC is not responsible for the content of external sites.