Russian monks in Beatles tribute at Liverpool cathedral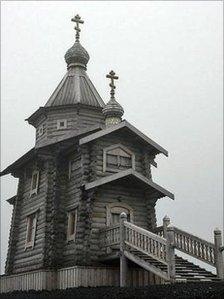 Beatles hits sung by Russian monks in Antarctica will echo round Liverpool's Anglican cathedral as part of a festival dedicated to peace.
It has taken months to track down singers from every continent willing to take part in the Peace, Love And Understanding concert on Saturday.
The monks from King George Island have recorded their Fab Four favourites and sent the video to the UK.
Organiser, John Keats, said: "We have singers from every continent now."
The monks' place of worship, Trinity Church, is believed to be the southernmost church in the world and was built near Bellingshausen Station, Russia's permanent outpost in Antarctica.
Their tribute to John, Paul, George and Ringo will follow the likes of Japanese band, Beatribes, Charlie Guitar from the USA, Nube 9 from Argentina and other groups from around the world.
All of them will sing their own version of the Beatles' songs in the grand cathedral in Duke Street.
The concert, which has been partly organised by Cavern City Tours, forms part of the International Beatle Week Festival, a five-day tribute to the famous Liverpudlian band which starts on Friday.
Festival venues include the Cavern Club and Cavern Pub in Mathew Street, the Adelphi Hotel, the Philharmonic Hall and, for the first time this year, Liverpool Cathedral.
To celebrate The Beatles' legacy, the concert at the cathedral is taken from Paul McCartney's belief that their music was about peace, love and understanding.
Mr Keats, of Cavern City Tours, said: "It's taken a while but I am sure it's going to be worth it, it really is amazing that performers from all over the world have got involved.
"The video from the Russian monks has been sent over from Antartica and is due in London this afternoon, we do not yet know which tunes they will be singing but we can't wait to see it."
The concert, which will be opened by the Bishop of Liverpool, will start with the cathedral's bellringers chiming Across The Universe.
Related Internet Links
The BBC is not responsible for the content of external sites.