Shafilea Ahmed parents released on police bail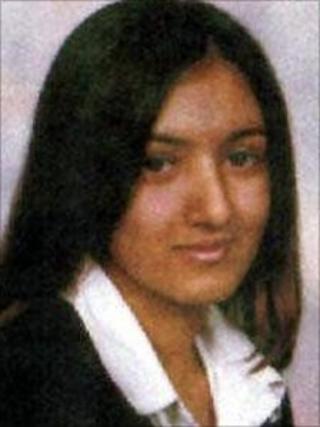 The parents of Shafilea Ahmed, who were arrested over the suspected so-called "honour killing" of their daughter, have been released on bail.
The 17-year-old went missing from home in Warrington, Cheshire, in September 2003. Her body was found in the River Kent, in Cumbria, in January 2004.
A coroner ruled in 2008 she had been unlawfully killed. No-one has been charged with her murder.
Iftikhar and Faranza Ahmed were held on suspicion of murder on Thursday.
The couple, aged 50 and 47, were detained at their home in Great Sankey.
Earlier, police said they had been given extra time to question the couple.
Family arrests
A spokesman for Cheshire Police said: "The 50-year-old man and 47-year-old woman arrested yesterday in connection with the murder of Shafilea Ahmed in 2003 have been released on bail pending further police inquiries."
Police had previously arrested the couple on suspicion of kidnapping but the Crown Prosecution Service later concluded there was insufficient evidence to press charges.
Five other family members, from Bradford, were also arrested but not charged.
The family has always denied any involvement in the schoolgirl's death.
'Vile murder'
Shafilea went missing on 11 September 2003. She was later reported missing by a teacher.
East and South Cumbria Coroner Ian Smith, who presided over Shafilea's inquest, said the teenager suffered a "vile murder".
He said the concept of an arranged marriage was central to Shafilea's death.
A medical expert told the hearing the schoolgirl had been smothered or strangled.
The coroner said he believed she was taken from her home on 11 September 2003 and that she had not run away.