Gun and chemicals found in Liverpool allotment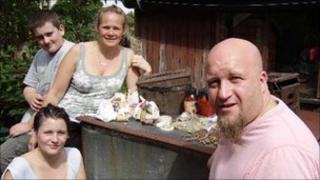 A woman has told of her shock after she found firearms three times at her Liverpool allotment.
Librarian Joanne Radley said she found shotgun barrels, cyanide and a silencer at the plot in Greenbank Lane.
A man has been arrested over the firearms find and is being held in custody.
The discovery is being linked to a chemicals find at a flat in Ullet Road on Saturday, resulting in the evacuation of 30 residents.
Ms Radley, who works at Garston library, said despite showing police her discoveries it took them over a month to act.
She said: "My daughter Fawn was helping me dig the allotment up in July when we made our initial discovery.
"She found what she thought was a pipe, but it turned out to be a flask containing the barrels of a shotgun.
'Took firearms'
"We were pretty shocked - it's not what you expect to find when you're digging up your veg - so we immediately contacted the police.
"They took the firearms and told us to get back to them if we found anything else.
"A few days later we did - two boxes of ammunition and white powder - and told the police again. They did a surface search and cordoned off the area.
"Twenty-four hours later we were allowed back and we found more ammunition and a silencer. This time I took it to the police station because I was so fed up of no action."
Merseyside Police said that part of their investigation was "under review". Det Supt Ritchie Davies said the suitability of officers' allotment searches would be looked at.