Cheshire abuser's dementia patients were 'defenceless'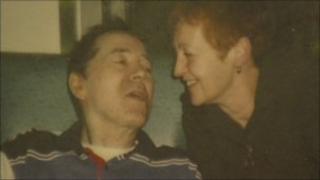 When Sylvia Barr put her husband into care she thought he would be cared for, loved and looked after.
Instead, the 70-year-old dementia sufferer was subject to outbursts of foul abuse, slapped and punched in the head.
After a 12-month investigation, Kerry Murphy, 27, was convicted of abusing six elderly people in her care and sentenced to 18 months at Liverpool Crown Court.
It emerged she subjected her victims, aged between 70 and 93, to two years of abuse at St Luke's Nursing Home in Runcorn, Cheshire.
Mrs Barr's husband, Leslie, was not able to tell those he loved that he was being beaten.
"Communication between us now has really deteriorated, I get the odd word from him but it's very difficult," she said.
'Coldest people'
"He couldn't tell anybody at all. That's the worst part of it - this was happening to him and he couldn't say anything to anyone."
She said she noticed his bruise when she went to visit him.
"I kept checking and rubbing his face but it wasn't going down. The more I looked at it the more I thought it looked like fingerprints on his face," she added.
"How could someone do that to him?"
Unfortunately he was not the only victim. Between September 2007 and October 2009, five other residents were abused by Murphy.
The oldest, 93-year-old Iris Hasset, is not alive to see her abuser brought to justice.
She was bullied, screamed at and had her hands slapped repeatedly, the court heard.
Ernest Shaw, 78, was punched in the side of the head because he made noises while she was putting his pyjamas on.
Det Sgt Sarah Hall, who investigated the assaults, said Murphy was "faraway one of the coldest people" she had ever interviewed.
Through her investigation she said she came to the conclusion that the care worker took her own stresses out on them.
"She worked on night shifts predominantly. It very much came across that she just took it out on the people she was supposed to be looking after.
'Utterly defenceless'
"If she was tired, had a bad day then they got the brunt of it.
"The investigation did go on for a very long time, the victims are so vulnerable they can't communicate, can't talk, can't tell anyone what was going on.
"They were utterly defenceless to her actions."
Mr Barr's sister, Doreen Hengler, said she felt Murphy's sentence was extremely lenient.
"She'll be out in half the time, it just does not make sense and we are upset, but I suppose that's the way the law of the land works.
"People have got to be aware and not be frightened to say if anything is wrong.
"Just because these people have got dementia and can't speak they can still feel hurt."
The owners of the home, Community Integrated Care (CIC), said they were looking into why the care workers felt they could not come forward and tell people about the abuse.