Connaught staff 'sacked by phone call' union says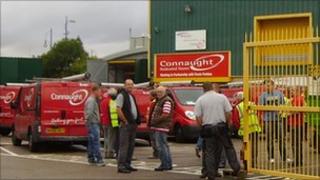 About 200 workers from the troubled property services group Connaught have been sacked after being told to phone the firm's administrators.
Union officials at Connaught's housing services in Sefton, Merseyside, said employees were left messages asking them to contact KPMG.
They were then told over the phone that they had lost their jobs.
KPMG, who confirmed 700 redundancies had been made across the UK, said 200 of those job losses were in Sefton.
It said the cuts were made after a commercial review of the business, but added it was unable to give further details on where the staff were based due to their "mobile nature".
More announcements would be made soon, it said.
Brian Green, from KPMG, said: "While the administrators made every effort to communicate with staff in person, the large number of staff and wide geographic spread across the country necessitated a series of telephone calls to ensure staff were informed of redundancies as soon as possible."
Jim Woods from the construction union Ucatt said it was an absolute disgrace and that workers were "fuming".
He said: "Why should workers be told in this way? They should be called KGB not KPMG for the way they have conducted themselves."
About 100 workers gathered outside the Connaught building in the Kirkdale area in protest at their treatment.
'No respect'
Jimmy O'Malley, 33, was a joiner for the company. He said he was "totally shocked" by the manner in which they were told.
"I called the number I was given and it was an open conference call. It was a surreal, weird situation.
"Every other message we've had has been delivered in a calm, professional manner," he said.
"People should be treated with dignity and respect - not like that."
Mr O'Malley said there was a loyal workforce in Sefton and people had turned up for work knowing they may not be paid.
The job losses came as construction group Morgan Sindall announced on Friday it had bought the majority of Connaught's social housing division.
It said it would transfer 2,500 of the 4,400 UK workforce to its business.
KPMG said it was continuing to negotiate other companies to take over the contracts and "remains hopeful that further staff within Connaught Partnerships Ltd will be transferred to alternative providers".
Union meeting
Connaught comprises three main operating businesses: Connaught Partnerships, Connaught Environmental and Connaught Compliance.
Only the Partnerships arm of the business has been placed in administration after failing to clear a £220m debt. The other two arms continue to trade as usual.
Ucatt is now calling for One Vision Houses, who own the properties which Connaught were contracted to maintain, to take on the workers.
Sefton Central MP Bill Esterson has met with One Vision to discuss the situation.
He said he wanted to ensure that workers remained employed and "ensure that the One Vision tenants are still given the same level of care".
"It is in the interests of the workers and One Vision Housing to secure a contractor to take on the work and for this contractor to employ the existing workers," Mr Esterson said.
"One Vision agreed that they would consider."
Union representatives were meeting workers at Bootle Town Hall on Friday.