Wirral taxi drivers told to smarten up with dress code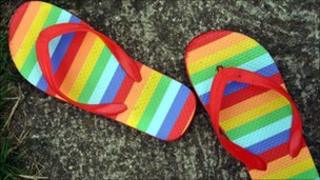 Taxi drivers in Wirral have been banned from wearing tracksuits, flip-flops or dirty clothing under a new dress code introduced by the council.
Licensing committee councillors voted in favour of the guidelines after members expressed shock at the appearance of some drivers.
It means Hackney carriage and private hire cabbies must follow a list of acceptable standards of dress.
The code, described by Unite union as "over the top", is not legally binding.
Licensing Committee chair, Councillor Sue Taylor, came up with the idea after members said they were shocked at the "state" of some drivers appearing before their panel.
She told the BBC the council wanted to "raise the bar" and improve the image of the borough's cabbies.
"We're not looking for top hat and tails or anything outlandish, it really is just to smarten up," said Mrs Taylor.
"We don't want tracksuits, we don't want torn clothing, we don't want drivers sat in a vest - it's just not acceptable.
"We just want a bit more of a professional image for the people who live here, visit here and bring business here."
According to the committee, the code has the support of the taxi Joint Consultative Committee (JCC) and the Unite union.
'Too vague'
However, Derek Cummins of the Unite taxi section, described it as a qualified welcome, branding the council's final approved dress code as "ludicrous" and over the top.
"We have no problem with the raising of any standards as long as they are not intrusive or prescriptive.
"Common sense should apply but unfortunately Wirral licensing are not on speaking terms with common sense.
"Things like inappropriate tattoos - what's that ? I'm an Evertonian and I might dislike Liverpool Football Club tattoos and think they're inappropriate.
"It is so vague it needs to be tightened."
Enforcement officers will report back to the panel on any driver considered to be in breach of the dress code.
According to Mr Cummins, problems may arise if the council tries to take any action against persistent offenders - because the dress code is not covered by any by-law.
"It is pointless bringing something out which is toothless and that is really what they will be doing," he added.