'Too small' baby girl flown home to Merseyside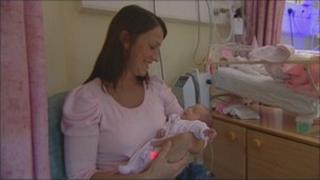 A baby girl who was stranded in the US after being born there 12 weeks prematurely has arrived home on Merseyside.
Connie Maria Burton was born in Florida on 4 August - her parents Claire, 32, and Marc, 23, from Litherland, were on holiday at Disneyland.
She weighed 2lb 8oz (1.1kg) at birth and doctors said she could not fly until she was 3lb.
The baby and Ms Burton were flown to Liverpool on Friday on a private jet.
Ms Burton said she realised something was wrong on the last day of the holiday and her family took her to hospital.
Medical staff at Winnie Palmer Hospital realised she was in labour and told her she would have to have a Caesarian section.
'Little sparrow'
Ms Burton, a teacher, said she was only able to see Connie for a few seconds after she was born, before they took her for treatment.
"They said she was fine - she was just really small," she said.
"She looked like a little sparrow. She was tiny."
Connie spent 36 days in hospital before doctors said she would be able to cope with the long-haul flight.
Ms Burton's insurance company paid for mother and baby to travel on a Learjet, with medical staff, at a cost of about £130,000.
Her family believe the total bill comes to more than £325,000.
Connie is now being cared for at Liverpool Women's Hospital and getting regular visits from her older brother Ciaron, eight.
'Drama queen'
"It is nice to be back. Everyone has been very supportive," Ms Burton said.
Connie is due to be released from hospital some time before her due date - 22 October.
"I can't wait. Everything is ready to have her home," Ms Burton said.
She said she thought the early arrival was a sign of her character.
"Obviously she is going to be a drama queen like her mum," she added.