Runcorn murder accused 'tried to take own life'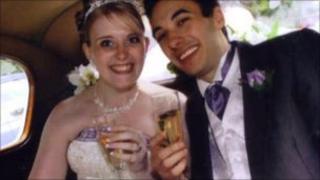 A man accused of murdering his wife after cheating on her with two women tried to kill himself after police found her body, a court has heard.
Michael Roberts, of Runcorn, Cheshire, denies murdering Vicky, his wife of five months, in November last year.
The 26-year-old told Liverpool Crown Court he strangled her during a sex game which went wrong.
Mr Roberts hid her body - which he had wrapped in sheets, cardboard and duct tape - in the garage of their home.
When police searched the couple's home on 3 December discovered Mrs Roberts' body Mr Roberts fled on foot.
'Stringing her along'
Asked by his barrister, Neil Flewitt QC, why he ran away, he replied: "I panicked.
"It was the realisation of what had happened finally."
While on the run he sent a text message to a lover, Karen Wilson, 26.
He told her: "I love you Karen now and for always."
He also sent her a message on 5 December saying he loved her "more than anything or anyone" and that she was the love of his life.
He had also told her he cried when he thought about what wedding they could have.
On Thursday, Mr Roberts told the court he did not mean any of it and that he was "stringing her along".
He said, after deciding to kill himself in a Chester hotel room, he wanted to send her a final "nice" text to cheer her up because she had previously been in an abusive relationship.
Roberts said he then shoved two socks in his mouth and covered his face with tape.
David Steer QC, prosecuting, said Roberts was devious, a liar and did not intend to kill himself.
"Why not jump off the nearest bridge?" he asked him.
"I realised Vicky didn't want me to die," Roberts said.
He also cheated on his wife with another colleague Kerrie Hall, 31.
The trial continues.