St Helens cannabis farm 'worth annual £3m'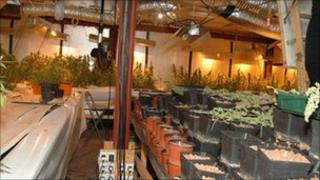 Four people have been arrested after the discovery of what police described as one of the largest cannabis farms ever found on Merseyside.
Officers raided two barns on farmland in Cronton, near St Helens, after a passing patrol noticed the smell.
Growing equipment and several thousand plants were discovered, which police believe could be making £3m annually.
Two men, aged 26 and 54, and two women, aged 34 and 58, are being held on suspicion of cultivation of cannabis.
Det Supt Richie Davies, of the Merseyside Police Matrix unit, said: "Our officers are dedicated to eradicating drugs from the streets of Merseyside and this is one of the biggest cannabis farms discovered by Merseyside Police.
"We take cannabis cultivation very seriously as we recognise that drugs can blight the lives of innocent people.
"We will continue to take action against those concerned in the drugs trade and ensure that these drugs are taken off our streets."