Head teacher guilty over school roof skylight fall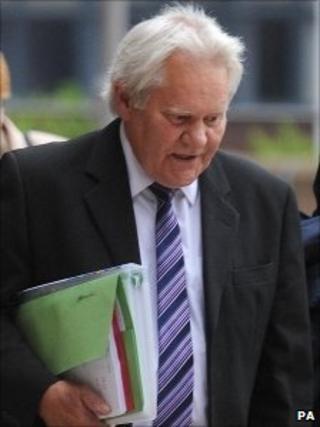 A head teacher who took students who had been drinking on to a school roof before one fell has been found guilty of failing to ensure their safety.
John Summerfield led sixth formers on to the roof of Sacred Heart Catholic College in Crosby, Merseyside, during an A-level results party.
Student Joel Murray fractured his skull after tumbling through the skylight, Liverpool Crown Court heard.
Summerfield, 65, was convicted of breaching the Health and Safety Act.
The jury took less than two hours to reach its decision and Summerfield bowed his head as the guilty verdict was read out to the court.
He will be sentenced on 29 October at Liverpool Crown Court and has been told he will receive a fine.
Judge Nigel Gilmour QC said: "This was a moment of folly. He is a very caring teacher.
"He was doing what he thought would increase the enjoyment of the evening for some of the pupils and, in doing that, he didn't really think about the safety aspects of taking them on to the roof."
Landed in corridor
During the trial the court was told the group of 10 to 12 students had consumed no more than two glasses of wine or beer during the celebrations in August 2008.
Mr Murray, then aged 18, placed his foot on the skylight, tumbled through and landed in the corridor 2.5m (8ft) below.
He perforated an eardrum, broke his ribs and suffered permanent damage to his eye, as well as fracturing his skull.
The court heard Summerfield had given the teenagers a verbal warning not to walk near the skylight but had wanted to show them some of the renovations to the school building.
He was one of the only keyholders for a locked door which was opened so the students could access the roof.
The prosecution argued that, once the locked door was opened, the principal no longer demonstrated "reasonable care".