Liverpool Waters development plans submitted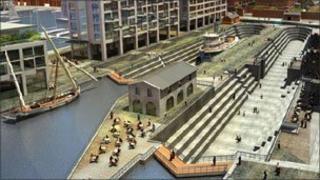 Developers behind £5.5bn plans to regenerate part of Liverpool docklands are submitting a planning application thought to be the largest in the UK.
Peel's Liverpool Waters plan includes building high-rise buildings housing offices, shops and up to 14,000 apartments on an area of disused land.
It will also include the 55-storey Shanghai Tower, which will be the tallest UK building outside London.
The Wirral Waters scheme is planned for the opposite side of the River Mersey.
The sister project, a £4.5bn plan to transform the Wirral waterfront, has already been approved by councillors.
The final decision to approve it however is to be made by the Secretary of State.
'Unbelievable achievement'
Peel hopes the two developments will transform the region's economy, creating tens of thousands of jobs over some 30 years.
Lindsey Ashworth, development director at Peel said: "It is a fantastic and almost unbelievable achievement to get a scheme of this scale and nature to a point where a planning application can be submitted.
"With the amount of people involved in the process I have to say that it's been very difficult to get a general consensus of agreement but we have managed this because all the stakeholders are proud of Liverpool and want this project to be delivered and therefore have made massive efforts to get it to this stage."
Councillor Joe Anderson, leader of Liverpool City Council, said: "Liverpool Waters is a hugely ambitious and exciting scheme which has the potential to bring about the transformation of an area which has been in need of regeneration for decades."
He added that there were considerations to be made before planning permission could be granted.
"We, along with other agencies, have worked with Peel to help shape this scheme but we do recognise that there are great sensitivities attached to it and there will be full consultation before a decision is made as part of the normal planning procedure to ensure the best possible outcome for the city."
The plans were being handed to the council on Monday.