Drug suspects from Liverpool arrested in Spain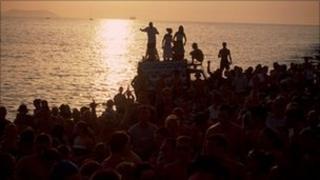 Nine men and four women from Liverpool have been arrested in Spain on suspicion of running a drugs ring.
The suspects, aged between 22 and 74, were held following an investigation into a gang supplying holiday resorts on the Costa Blanca and Ibiza.
Police seized 53,000 ecstasy pills, 100 cannabis plants, cocaine, vehicles, mobile phones and cash.
Spanish Guardia Civil and the Serious Organised Crime Agency (Soca) have remanded them in custody.
They were arrested in the Torrevieja area of the Costa Blanca on 27 September, a Soca spokesman confirmed.
One man was detained as he tried to smuggle thousands of ecstasy pills hidden in the doors of a car to suppliers in Ibiza, police said.
The gang is also suspected of links to money laundering and identity fraud.