Helen Newlove becomes ambassador in bad behaviour fight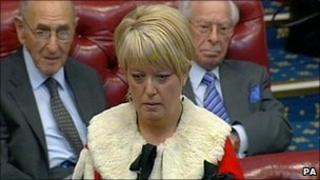 The widow of Warrington father-of-three Garry Newlove is to become the government's ambassador in the fight against anti-social behaviour.
Helen Newlove, 48, has become a champion of victims' rights since her husband was murdered by youths he challenged outside their home in 2007.
Home Secretary Theresa May is expected to announce the news at the Conservative Party conference later.
Baroness Newlove was made a peer by David Cameron in July.
Her husband died three days after being attacked outside their home and kicked "like a football" by a gang who had been vandalising his car.
Three teenagers were jailed for life for his murder.
"I have appointed Baroness Newlove - whose husband, Garry, was so senselessly murdered after standing up to drunken vandals - to become the government's champion for active, safer communities," Mrs May will say.
"She can't be with us today, but Helen will travel the country, visiting communities affected by anti-social behaviour."
Baroness Newlove will work alongside former Eastenders actress Brooke Kinsella, who has also been a leading campaigner since her 16-year-old brother Ben was stabbed to death two years ago.