George Stubbs horse painting could fetch £15m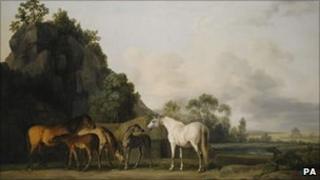 A painting by British artist George Stubbs could fetch as much as £15m when it is put up for sale later this year, the auction house Sotheby's has said.
The Liverpool-born artist, who was famous for his paintings of horses, painted Brood Mares and Foals at the height of his fame in 1767.
Since then the painting has remained in the family of the Earl of Macclesfield, who are now offering it for sale.
The painting will be sold at Sotheby's in London on 8 December.
Emmeline Hallmark, director and head of British pictures at the auctioneer, said: "George Stubbs is, in my opinion, the greatest horse painter of all time.
'Impeccable provenance'
"It is an immense pleasure to be offering in our December sale this exceptionally fine work by him, which is instantly recognisable as one of his most beautiful and iconic compositions.
"It has been more than 30 years since a Mares and Foals scene has appeared at auction.
"This outstanding example painted when Stubbs was at the height of his powers and popularity is not only in superb condition but also has the most impeccable provenance, having never appeared at auction before.
"It is quite simply perfection; who could ask for more?"
Brood Mares and Foals was first shown at two exhibitions in 1768 but has only been shown once since then in a 2005 show dedicated to Stubbs.
The estimated sale price is £10m - £15m.