Head quits over Stockport schoolboy's asthma death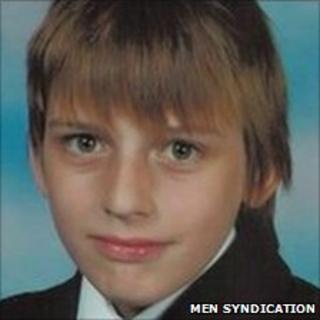 A head teacher due to face a disciplinary panel over the death of a schoolboy from an asthma attack has resigned.
Stockport Council confirmed governors at Offerton High School had accepted Evelyn Leslie's resignation.
Sam Linton, 11, was left in a corridor struggling for breath at Offerton High School in Stockport, in December 2007.
An inquest previously heard how staff failed to call 999. In July, governors called for Ms Leslie's sacking.
Ms Leslie had been suspended since March, with four other members of staff, after an inquest found their actions "significantly contributed" to the boy's death.
The other suspended staff members have kept their jobs, including first aider Deborah Bouckley, who was sacked but later reinstated after an appeal.
Janet Ford, the teacher who was supervising Sam when he became ill, and two student services assistants received formal warnings.
Council's condolences
A Stockport Council spokesman said: "The staff concerned have been through due process and, apart from the head teacher Ms Evelyn Leslie, are now back at school.
"During the formal process, the head teacher chose to offer her resignation, with effect from 31st December 2010, to the governing body and this has been accepted.
"We again offer our sincere condolences to the family."
But lawyer for the boy's family Jonathan Betts said the family felt the education authority had taken too long to "see what can be learned from this case."
Earlier this year an inquest heard that Sam, of Dalby Grove, Offerton, was wheezing and using his inhaler at school, but staff failed to dial 999 and told him to sit in a corridor.
His mother was eventually called and took him to Stepping Hill Hospital, Stockport, where he died two hours later.