Museum's commitment to return human remains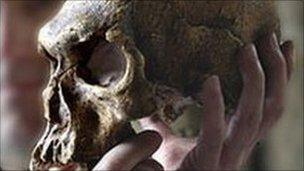 "How would you feel if your great-grandmother's remains were lying in a box on a shelf in a museum?"
Dr David Fleming, the director of National Museums Liverpool, poses the question to explain his museum's policy on the return of human remains.
It is thought hundreds of remains belonging to Aborigines, Maori and indigenous people from the Torres Strait islands and Chatham Islands are being stored in museums across the UK.
The Liverpool museum now has a policy to return human remains in their collection - following the Human Tissue Act 2004 - if they receive a formal and legitimate request from a government agency.
"I believe most people would think it is the right thing to do to hand these remains back," Dr Fleming said.
It has been a contentious issue, with some arguing the remains should be kept in museums for scientific research.
But Dr Fleming argues the "cultural, social and emotional arguments outweigh the scientific argument".
"I don't believe it is my right to sit here and say it is of scientific interest so you can't have it," he said.
Dr Fleming said he thought most people would find it "outrageous" if someone from the UK was refused the remains of a family member or ancestor by another country.
National Museums Liverpool's items have been in storage for many years, as its curators "would not dream of having them on display".
Dr Fleming admits not all museums take this approach, with some arguing they are not able to return such items.
He does concede he is "lucky" in that the museum's trustees support the policy, which meant legitimate requests would be viewed positively.
Explorers and soldiers often brought the remains of indigenous people back to the UK as souvenirs from their trips in the 18th century, Dr Fleming said.
"It was an acceptable thing to do then. It isn't any more," he said.
British museums acquired many of the remains during the 20th Century.
The museum in Liverpool started returning items in 2007. Five remains were handed over to the Museum of New Zealand Te Papa Tongarewa in that year, following a formal request.
A skull, thought to date back to the early 19th Century, was returned to the Ngarrindjeri people in Australia last year. It had been bought by the museum from the Liverpool doctor and anthropologist William Broad in 1948.
Last month, the museum returned a mummified baby - the Omasker - to the Meuram Tribe from the Torres Strait. It was bought by English explorers on the HMS Rattlesnake in north eastern Australia in 1849.
National Museums Liverpool acquired the Omasker in 1953, from Norwich Castle Museum. The skull was missing as it had been stolen while on display in Norwich.
The museum is currently in the process of arranging the return of the remains of a young child, believed to be from north east Queensland.
"When it comes to human remains, I can't foresee turning down a legitimate request for their return," Dr Fleming said.
However, the museum is keen to stress that the remains are only returned when it is completely satisfied they are being repatriated to the correct group.
Lynne Heidi Stumpe, curator of Oceanic Collections, has carried out research to ensure they are returning the items to their rightful owners.
Details such as the position of the head, fibres and coverings have all been used.
"It is essential they go back to the right tribal group," she said.
Dr Fleming said the return of remains was a "solemn and dignified process" - "it is not just a case of posting them back".
Tribe members have travelled to Liverpool to ensure their safe return.
"When you meet these guys, I don't know of anybody who could tell them 'you can't have it'," Dr Fleming said.
Related Internet Links
The BBC is not responsible for the content of external sites.