Liverpool fans nervous over takeover talks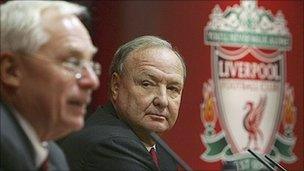 "They've been bad for the club and the sooner they go the better."
That is the view of Ted McGrath, just one of many Liverpool fans waiting for the result of a High Court hearing which will determine the Reds' future.
The club's owners Tom Hicks and George Gillett are not the most popular figures in Liverpool.
The Americans, despite owing their creditors Royal Bank of Scotland (RBS) £240m, are blocking the £300m sale of the club to New England Sports Ventures (NESV), owners of the Boston Red Sox baseball team.
If they do manage to stop the deal, their holding company needs to repay the RBS debt or face administration, resulting in a nine-point deduction for the club.
With the club already near the bottom of the Premier League, there is uneasiness among fans who fear their club could be heading for relegation.
Mr McGrath, from Bebington, Wirral, is hopeful the club can get back to winning ways.
"If the new owners are honest and they try to run it sensibly and put some money into buying new players, well then they should pick themselves up again, because they've got wonderful support haven't they?" he said.
Another Reds fan, Tony, from Liverpool said the club need to be "up the top bringing the cups back home".
He said: "I think it's terrible, these two Americans who have come in and promised Liverpool everything, and look where we are now, we've never been in that position ever since I've been born and I'm 48 now, so what's going wrong?
"I think they should just let the people who want to buy the club buy it, just let them in as quick as possible because all we're doing is going down and down and down."
NESV has said it will pay back the debt owed by Liverpool to RBS if it buys the club.
Patricia White, from Aigburth, said fans were worried about the effect the debt had had on the club and said administration would be "terrifying" for the city.
"It's part of what people build their identity around," she said.
"I think you can't judge one American by another American's standards, but I think a lot of things have changed in football and I think a lot of people are really nervous about all that debt being brought into a football club.
"I know it has worked for a lot of American sports clubs, but then you're just left at the mercy of the economy, and I think a lot of people are nervous about it because it's not just a business to people in this city is it?"
Fan Colin Doby thinks a sale would be the best outcome for the club.
"It's going to be another Leeds United, it's going to be points deducted for money owed
"[Hicks and Gillett] are more bothered about money than points. They're not really worried about the club.
"It's going to be relegation and maybe even further, even more poverty.
"If the sale does go through I think it will be good for the club, and it will get them out of debt. But as far as I'm concerned, money speaks louder than points."
Some fans would rather see an owner step in from the UK.
Dianne Foy, from Huyton, is among them. She said: "I don't think they should be sold, its' the Americans, they're not really interested in our club, I don't think they're that interested, it's just making money.
"I'd rather it was under a British owner. I reckon it would be doing better if it was owned by the British."
Stuart Sheil, a lifelong fan from Old Swan, Liverpool, is keeping his fingers crossed for a club takeover.
He said: "I hope Liverpool win and they get the new owners, but I don't know much about this nine point reduction, and I don't know what happens there, we're all guessing.
"We'll just have to wait and see."
The case is due to be heard by Mr Justice Floyd at 1030 BST.