Final member of Blanchard paedophile ring convicted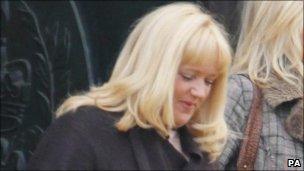 A woman has been convicted of sexually assaulting a five-month-old baby girl - becoming the final member of a paedophile ring to face justice.
Tracy Dawber, 44, of Southport, Merseyside, carried out the assault as her boyfriend photographed the abuse, Winchester Crown Court heard.
Her now ex-boyfriend Colin Blanchard, 40, of Rochdale, previously admitted being involved in the assault.
Two other members of the ring have been jailed. A third is awaiting sentence.
Blanchard, an IT consultant, admitted 17 counts of possessing images of child sex abuse and two of sexual assault on children.
He also admitted possessing extreme pornography, the sexual assault of a baby and taking indecent images of that baby.
Plymouth nursery worker and mother-of-two Vanessa George, 40, was jailed indefinitely, with a minimum term of seven years, last December after she admitted seven sexual assaults on children and six counts of distributing and making indecent pictures of children.
She sent Blanchard eight images a week.
Single mother Angela Allen, 39, from Bulwell, Nottingham, who admitted four child sex assaults and distributing an indecent image, was also given an indeterminate jail sentence, with a minimum term of five years.
Blanchard, George and Allen made contact on the social networking site Facebook.
They never met in person but recorded the abuse on their mobile phones and exchanged pictures on e-mail.
Tracy Lyons, 39, a mother-of-nine from Portsmouth, has also previously admitted six charges, including two counts of sexually abusing a toddler and distributing indecent images.
Dawber - a community care worker - was in a relationship with Blanchard for about a year until September 2008.
She wept as the jury announced they had found her guilty of one count of sexual assault and five of allowing Blanchard to take pictures of the abuse on his mobile phone.
She had claimed she was not abusing the child but was checking for nappy rash.
Mr Justice Royce remanded Dawber in custody for pre-sentence reports.
He told her: "These are serious offences. A custodial sentence of some length is inevitable."
Indecent images of children were found on Blanchard's mobile phone in June 2009, including two of Dawber and Blanchard together.
Ann Reddrop, the Crown Prosecution Service lawyer who dealt with all the cases, said: "Colin Blanchard turned out to be an evil man who controlled four women in one of the most sickening paedophile rings this country has seen.
"He encouraged these women to take and share ever more horrific images of the sexual abuse of children.
"As if that was not bad enough, he encouraged them to physically abuse children to produce those pictures.
"In the case of Vanessa George, this led to a hideous betrayal of trust of those parents who relied on her to look after their children at the nursery where she worked.
"She showed a complete disregard for the lives of the victims and their families, all of whom have been left devastated by these crimes.
"Anyone who was in court to hear details of these cases cannot fail to be horrified at why three women - Vanessa George, Angela Allen and Tracy Lyons - committed such shocking acts of child abuse when prompted by Colin Blanchard or why Tracy Dawber encouraged such activity to take place in her presence."
Dawber, Blanchard and Lyons are due to be sentenced at a later date.