Website selling fake films closed down in Liverpool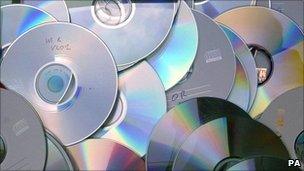 Liverpool City Council has said it will continue to close down websites selling counterfeit CDs and DVDs and prosecute the people behind them.
The warning comes after the site marks-domain.org was closed after an 18-month covert operation by trading standards.
Officers seized about 5,000 films, 2,000 games and 1,000 counterfeit CDs in raids in Liverpool and Manchester.
Five men, aged in their 40s, have been bailed while Liverpool trading standards investigate the case further.
Two of those arrested are also suspected of committing benefit fraud.
Liverpool city council's cabinet member responsible for trading standards, Tim Moore, said: "This particular type of website is extremely damaging to the film and music industry.
"Individuals who set up and operate this type of criminal activity have a direct impact on the local economy impacting on legitimate businesses trying to survive in these tough financial times.
"It is not a victimless crime and we will continue to work with partners to close down these websites and prosecute offenders."
The trading standards team carried out the raids with the Federation Against Copyright Theft (Fact), Merseyside and Greater Manchester police, the British Phonographic Industry and the Department for Work and Pensions.
Director general of Fact Kieron Sharpe said: "Fact is increasingly turning its attention to tackle websites and other internet services which sell and/or distribute counterfeit copies of films and TV programmes.
"It is clear that organised criminals are using the internet to generate substantial profits and we are keen to ensure this is tackled by UK law enforcement."
Related Internet Links
The BBC is not responsible for the content of external sites.