Ex BMA chief denies putting doctors ahead of patients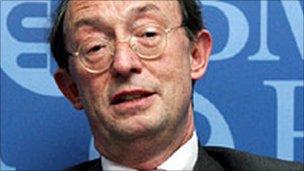 A surgeon and ex head of the British Medical Association has denied putting representing doctors above patients.
James Johnson is facing a General Medical Council hearing over operations on 14 patients in Cheshire.
He is also alleged to have accidentally struck a needle into the forehead of a female doctor who was assisting him.
He told the hearing he did the same amount of surgery as his colleagues - despite working a "100-hour week most of the time" to include his BMA duties.
Mr Johnson told the GMC panel in Manchester: "It was certainly a busy life.
"But colleagues at Halton hospital were used to my rather unusual way of life.
"I always made myself available. We had a well-honed system for dealing with problems.
"The work I did for various organisations was very time-consuming, but my first loyalty was and is to my patients.
"If I had to choose between them, without the slightest shadow of a doubt, I would have chosen the clinical work, which I always found rewarding and highly satisfactory."
Mr Johnson was BMA chairman from 2003 to 2007, when he resigned amid a row about a controversial new system for allocating junior doctors to training posts.
The panel has heard claims that the stresses on his time meant his patients missed out on care.
He was said to have behaved "like a caricature of surgical arrogance".
Mr Johnson, who has been a vascular surgeon since 1985, denies this and is continuing to give evidence in his defence.
Related Internet Links
The BBC is not responsible for the content of external sites.