Sefton Council warns of 1,000 job cuts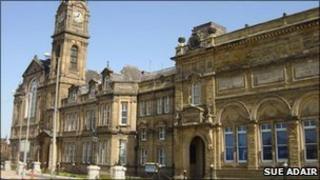 About 1,000 jobs could be lost at Sefton Council in Merseyside in the wake of the Spending Review.
The authority said it was facing a budget shortfall of at least £53m in the next three years following a reduction in government grants.
Other savings measures suggested by the council include increasing burial and cremation fees, closing public toilets and cutting arts funding.
The Unison union said staff, who were informed in a letter, were angry.
Sefton Council's cabinet meets on Thursday to discuss the progress on measures to reduce its projected budget deficit.
An ongoing voluntary redundancy and early retirement scheme has so far saved about £3m.
But in a letter to all staff, chief executive Margaret Carney warned the council, which is in no overall control, may have to lose about 1,000 posts, depending on the finer details of the Spending Review.
She said £53m would be the "minimum" savings the council would have to save following the Spending Review.
"Unfortunately, I have to tell you that, it is possible Sefton Council may have to lose around 1,000 jobs to meet the savings - a figure which will change as we get further details on the Spending Review," said Ms Carney.
"We will of course continue to explore all options that minimise these job losses but we must continue our preparations to reduce spending and put all our effort into minimising the impact on the communities of Sefton."
Glen Williams, branch secretary of Sefton Unison, said members had urged the authority to look "creatively" at saving the money through natural wastage of staff, reducing the number of agency workers and cutting private contracts.
"Yes, in isolation £53m is a massive amount, but in the context of a council that manages £600m a year we don't think it's a big ask," said Mr Williams.
"Children may go unprotected, vulnerable people may not get the services they require - that might be the direct impact."
Mr Williams said staff morale was currently "at rock bottom".
"These are not highly paid people and our members feel angry and let down.
"Consult us properly, treat us with some respect, let's look creatively around the table and let's look for an alternative way forward."
The council's cabinet meets at Bootle Town Hall on Thursday.