Ringo Starr's former home targeted by relic hunters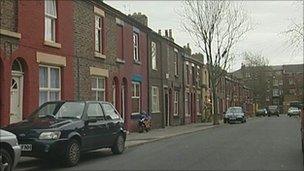 Souvenir hunters are chiselling out bricks from Ringo Starr's former home before it is demolished.
Liverpool City Council has been forced to use extra metal cladding on the boarded up home in Madryn Street for health and safety reasons.
The house, along with the rest of the terraces, is part of the Welsh Streets, which are due to be knocked down soon.
The bulldozers are due to arrive in the new year. The community is divided over whether they should be saved.
A spokesman said: "A number of bricks have been removed from around the window frames of 9 Madryn Street, presumably by souvenir hunters.
"If more bricks were removed this could present a danger to passers-by so the city council obtained the permission of the property's owners Merseytravel, to add extra metal sheeting to the house."
Notices were plastered on many of the derelict homes in the Welsh Streets at the beginning of summer declaring demolition would start in October.
However, due to the widespread interest and various campaigns to save Madryn Street and the surrounding homes this has been delayed.
Save Madryn Street (SMS) campaign was established earlier in the year in a bid to fight the council's plans to knock down the Welsh Streets and regenerate the area.
At the time, founder member of SMS, Mr Coppell said: "We are going to fight tooth and nail in Liverpool, and around the world, to call a halt to this crazy decision to demolish Madryn Street.
"The homes of Paul McCartney and John Lennon are already preserved and Ringo is no less important.
"We want to see Ringo's birthplace conserved and turned into proper tourist destination."
Disputes have raged between the council and the campaigners over the best course of action. SMS group wants the council to refurbish the homes, but the council says this will be too expensive.
Ringo Starr was born in Madryn Street and lived there for a few months before moving to nearby Admiral Grove where he spent most of his childhood.
Related Internet Links
The BBC is not responsible for the content of external sites.