Flu vaccine firm Novartis plans to shed 190 jobs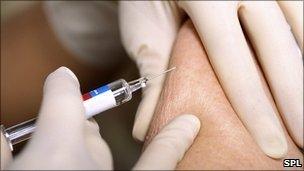 Swiss drugmaker Novartis is set to lose 190 jobs at its Liverpool plant if plans to transfer some of its work to Italy go ahead.
About 690 people currently work at the factory in Speke, which produces flu vaccines and treatments for swine flu.
The firm wants to keep producing the vaccines there, making it a centre of excellence for the company.
But it plans to close one of its three buildings, transferring the production of its packaging to Italy.
The firm said it was consulting with staff on the proposals.
A spokesman for Novartis said: "We deeply regret the impact these proposals would have on associates whose roles would be affected by these proposals and wish to emphasize that the changes are in no way a reflection on their performance.
"We will treat them with dignity and respect and provide them with a full programme of support when, subject to consultations, the proposals are implemented over a proposed timescale during 2011."
Related Internet Links
The BBC is not responsible for the content of external sites.