Merseyside Police helicopter may go in national merger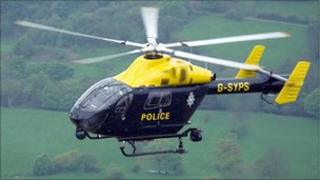 The Merseyside Police helicopter could be scrapped under plans to merge regional operations and establish a National Police Air Service (NPAS).
There are currently 33 aircraft at 30 bases, but the new network will have 23 aircraft at 20 bases.
The Association of Chief Police Officers (Acpo) has proposed withdrawing the one based at Woodvale.
In its place, aircraft would be scrambled from Lancashire, North Wales or Greater Manchester.
Merging the helicopter operations will save £15m from the current total running cost of £66m.
Acpo has said the new service would provide a more efficient and accessible air support service that offers better value for money.
Head of the NPAS, Chief Constable Alex Marshall, said: "This is not merely a cost-saving exercise.
"While the current service is capable of doing its day job, artificial boundaries have meant that helicopters are restricted to operating within their own force area.
"A national, borderless service will ensure effective coverage of urban and rural areas."
Merseyside Police Assistant Chief Constable Andy Ward said: "Whilst on Merseyside we fully recognise the benefit of the new National Police Air Service outlined by Acpo, the proposals still require further consideration and negotiation locally before they can be implemented.
"We will be working with the national group to ensure that any future service meets the needs of the communities of Merseyside.
"I would like to assure people that, no matter what decisions are made in the future, there will be no loss of air support in Merseyside and communities will see no change in service."
He added: "A police helicopter will remain available to attend future incidents across Merseyside and to assist in the policing of the area."