Waterfront walkway named after Wirral war hero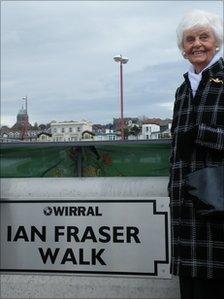 A Wirral war hero has been honoured by having a waterfront walkway named after him.
Lt Cdr Ian Fraser, who passed away two years ago, was awarded the Victoria Cross for his "courage and determination" in World War II.
The new Kings Parade promenade, in New Brighton, was officially named Ian Fraser Walk at a ceremony on Thursday.
He received the highest military accolade for an underwater attack he made on a Japanese warship in 1945.
His Victoria Cross citation read: "The courage and determination of Lt Cdr Fraser are beyond all praise.
"Any man not possessed of his relentless determination to achieve his objective in full, regardless of all consequences, would have dropped his charges alongside the target."
The brave seaman and his crew managed to attach limpet mines to the side of the Japanese warship, Takao, after successfully navigating dangerous waters off the coast of Singapore in a midget submarine.
Several years before he died at the age of 87, he spoke on BBC Radio Merseyside about his faith in God.
"My faith sustained me throughout all the dangers and difficult times that I went though during the 39-45 war," he said.
The great grandfather was also awarded the Freedom of the Borough by Wirral council in 1992, for his war time heroics and the contribution he made to public life in Wirral as a successful businessman.
With other ex-frogmen and service colleagues he formed his own company, Universal Divers, and became its managing director and later chairman.
His widow, Melba Fraser, said said she was overwhelmed by the gesture.
"I think it's absolutely wonderful," she said.
"Wallasey have done an awful lot, with the Freedom of the Borough.
"When he got the VC, they presented him with a sword, which we have up on the wall still.
"Isn't it an honour, I mean it really is marvellous."
Related Internet Links
The BBC is not responsible for the content of external sites.