Zutons singer sentenced over Liverpool assault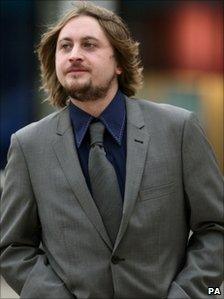 The lead singer of The Zutons has been sentenced for breaking a man's nose in a row outside a Liverpool bar.
Dave McCabe, 29, butted Peter Appleby after his girlfriend was insulted outside Korova bar on Hope Street, on 21 February.
McCabe denied assault claiming he acted in self-defence but was convicted at Liverpool Crown Court last month.
He was ordered to carry out 150 hours of unpaid work and to pay the victim £1,500 in compensation.
He was also told to pay court costs of £3,500.
The Zutons formed in 2001 and have released three albums.
McCabe wrote the band's hit song Valerie, which was covered by Amy Winehouse and Mark Ronson.
During his trial the court heard how he reacted violently after one of Mr Appleby's friends insulted his girlfriend Sheree Grist, saying her fur-collared coat made her look like she had a beard.
He had been at the bar with Miss Grist, two brothers and other friends after attending his mother's 60th birthday party.
The court heard how McCabe drank three glasses of wine and five bottles of Corona lager during the evening.
McCabe and Miss Grist left the club at 0330 GMT, as did Mr Appleby, 23, and four of his friends. All of them were drunk.
One of them, student Ciaran Donnelly, insulted Miss Grist, who replied with an insult.
McCabe, of Vale Road, Liverpool, apologised for her outburst but told the group not to pick on them, the court heard.
He said he headbutted Mr Appleby, who had downed six pints of Guinness, thinking he was about to be attacked.
Speaking in court on Friday, defence barrister Henry Gow said McCabe, who has no previous convictions, regretted the clash.
"He offers his very sincere apologies to the victim and is very sorry for what happened that night," he said.
Recorder Alan Conrad QC said: "I don't believe the remark was intended to be offensive.
"It was a serious assault causing painful injury and committed at night, in public and in drink."
Saying the victim "in no way wanted to cause trouble", he told McCabe: "In your favour you have never been in trouble before.
"I accept you were not intent on causing trouble that night until the time came when you over-reacted to a perceived insult to your girlfriend.
"You are a man who has achieved a considerable degree of fame and success but I am making it clear I am dealing with you in exactly the same way as anybody else."
Related Internet Links
The BBC is not responsible for the content of external sites.