Head teacher fined over school roof fall in Merseyside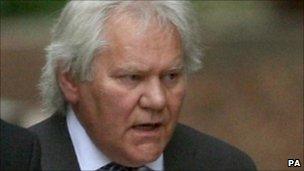 A head teacher has been fined £20,000 for failing to ensure the safety of his students after one of them fell through a school roof on Merseyside.
John Summerfield led a group of "slightly inebriated" sixth-formers on to the roof of Sacred Heart Catholic College in Crosby in August 2008, Liverpool Crown Court heard.
Student Joel Murray, 18, fell through a skylight and fractured his skull.
Summerfield, 65, was convicted of breaching the Health and Safety Act.
He was also ordered to pay costs of £22,708.
The head teacher, of Moorland Avenue, Crosby, had taken a group of 10 to 12 students on the roof to show them renovation work during an A-level results party.
He warned the pupils to avoid the skylight but Mr Murray stepped on it, fell through and landed in the corridor 8ft (2.5m) below.
As well as fracturing his skull, Mr Murray also broke his ribs, perforated an eardrum and suffered permanent damage to his eye.
The damage to his eye is likely to limit his employment options for the rest of his life, the court heard.
Kevin Donnelly, prosecuting, said: "Nobody was drunk but it is possible they were slightly affected by drink, possibly slightly inebriated.
"The very act of taking the students to that area was a breach of his duty of care."
Patrick Cassidy, for Summerfield, said the teacher had enjoyed an "impeccable" 42-year career until his retirement following the accident.
Judge Nigel Gilmour QC, sentencing, said: "This act of isolated carelessness is not a true reflection of your distinguished career.
"It was an act of folly. You didn't know the precise risk of the rooflight but you did know it was dangerous or at least potentially dangerous.
"This was a grave and uncharacteristic judgment which led to a pupil suffering serious injury."
Summerfield must pay the fine and costs within six months or face up to 12 months in prison.
Mike Sebastian, of the Health and Safety Executive, said: "As the head teacher, Mr Summerfield should have thought about the possible consequences before deciding to take them through two locked doors on to the roof.
"Students should expect to be in a safe environment when they're at school and look to their teachers for guidance on what is and what isn't safe."
Related Internet Links
The BBC is not responsible for the content of external sites.