Merseyside students march over rise in tuition fees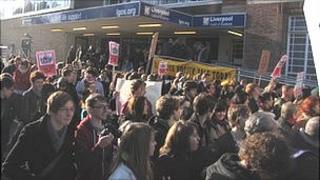 More than 2,000 students from across Merseyside have staged a protest in Liverpool against a rise in university tuition fees and education budget cuts.
Students from Liverpool's universities and prospective students from colleges and schools gathered at the Liverpool Guild of Students at 1100 GMT.
They marched to Liverpool Town Hall, where they were addressed by Labour councillor Nick Small.
Some students later staged a sit-down protest at the top of Bold Street.
The group of about 300 people blocked three major city centre roads to traffic - Bold Street, Berry Street and Renshaw Street.
Sit-down protests were earlier staged at Lime Street station and outside the town hall.
Students chanted "No ifs, no buts, no to education cuts" as they marched through the city.
There was a heavy police presence, with officers being helped by student stewards to help ensure a peaceful protest.
The action is part of a day of protests taking place across the country.
It follows a protest in London two weeks ago, when the Conservative Party's offices were badly damaged.
The government plans to increase tuition fees at English universities to up to £9,000.
'Get message across'
Public funding for university teaching budgets would also be reduced for many subjects.
The plans have been backed by Liberal Democrat leader Nick Clegg, whose party had pledged to vote against a rise in fees in the run-up to the general election.
Mr Clegg has urged students to examine the government's proposals before taking to the streets.
But Lewis Coyne, one of the organisers of the Liverpool march, said: "It is important to get the message across that we aren't happy about what they are doing to the education budget and the rise in fees."
About 4,000 people have joined a Facebook group about the protest, he said.
He said he had hoped the protest would be peaceful, unlike the previous demonstrations in London.
"The overwhelming consensus among students is that it was a negative thing and the protests were seen in a negative light because of the violence," he said.
A spokeswoman for Merseyside Police said officers had been "committed to facilitating a peaceful protest".
She said officers had contacted secondary headteachers across the region asking them to "ensure that their pupils are aware of any potential consequences of them leaving school to attend the demonstrations".
They had also liaised with several groups involved in the protest.
"Officers will not tolerate criminal behaviour, disorder or anti-social behaviour during any demonstrations or within Merseyside," she added.