Arrests made during Liverpool drugs raids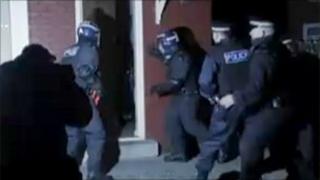 Police have arrested 21 people as part of an investigation into the supply of class A drugs in Liverpool.
More than 200 officers were involved in a series of raids in Toxteth and Dingle in the early hours.
Merseyside Police said the raids were in response to tip-offs from members of the community and followed a nine-month investigation in the areas.
Twenty-seven warrants were executed during the operation, which targeted suspected street dealers.
Supt Jon Roy said: "Drug dealing brings misery to our communities and we are listening carefully to residents' concerns as we tackle the problem.
"The warrants executed today are a result of the force listening to community concerns and acting upon them."