Plans for Hoylake lifeboat museum discussed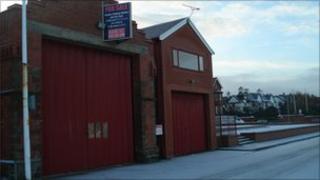 Plans to turn a former Wirral lifeboat station into a museum will be discussed at a meeting later.
The proposals for the old Victorian building on North Parade, Hoylake, were first put forward in 1998 by Caldy businessman John Parr.
The station closed when the RNLI built a new one along the promenade.
Mr Parr, who wants to buy the building from owners Peel Ports, is holding a meeting at Hoylake Community Centre at 1900 GMT.
He believes raising £75,000 would be enough and hopes the meeting will help generate more cash and support for the plan.
'Optimistic'
"There are ways of raising funds, and we already have an external third party who are talking to me about providing funding," he said.
"I am optimistic that we will be able to raise the funding through the various sources.
"It is harder than ever now but I think that the sums involved in saving the building from alternative uses are not so accessible that we can't raise them."
The old lifeboat station stands in the Kings Gap Conservation area.
Founded by the Mersey docks and Harbour Board in 1803, it is one of the oldest on the coasts of Great Britain and Ireland.
Over the years the rescue station has received nine awards for gallantry and has also seen tragedy with nine crew losing their lives saving others at sea.
The new station opened in November 2008, after a fundraising campaign backed by former Hoylake resident and James Bond star Daniel Craig.